Looking for a summer-friendly look with your jeans? Here are 27 Casual Summer Outfits with Jeans to make your denim stand out.
Summer has arrived, and it's time to celebrate with some of our casual summer outfits! 
Who in their wardrobe doesn't have a pair of jeans?
Just because it's hot outside doesn't mean you can't listen to your favorite jeans.
Fortunately, there are a variety of ways to make them more appealing.
It's just all about how you pick and style those blues with your top, shirt, jacket and still feel comfortable even in the heat of the sun. 
Like, you can wear colorful denim, it's a good alternative, but light colors like pastels are ideal for tops, and always remember to consider the colors and patterns of your top and bottom pieces of clothing. Your outfit can easily be ruined by clashing patterns or colors.
So, sit back, relax, and enjoy yourself this summer with these fresh summer outfits with jeans looks.
Casual Summer Outfits With Jeans
1.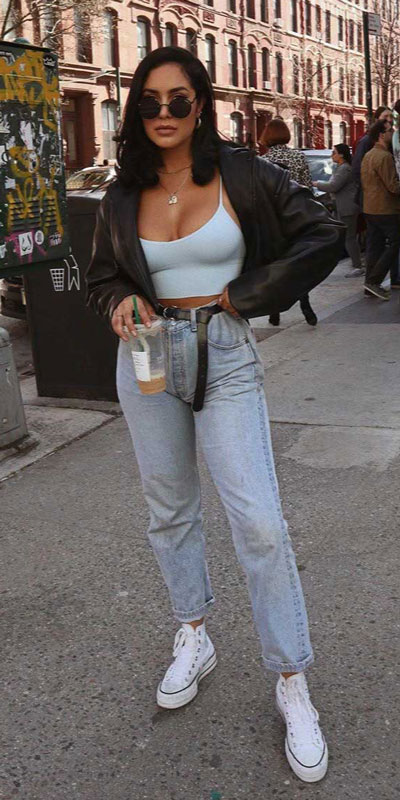 You'll never drown your figure with a pair of mom jeans and a classic white crop top layered with a leather jacket and high-cut sneakers. Accessorize it with a belt to clinch your waist further.
2.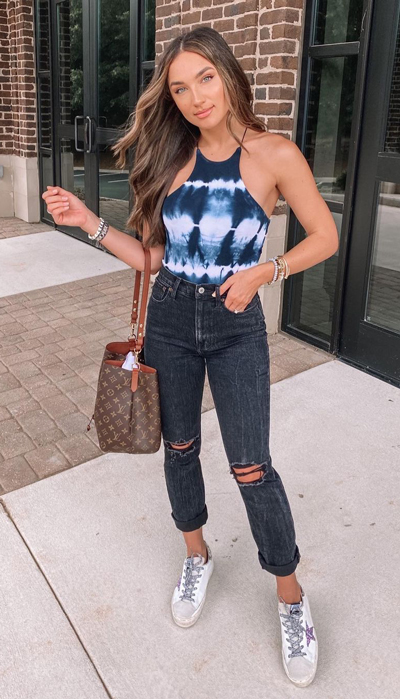 In your summer wardrobe, anything tropical is natural, such as this tie-dye crew neck bodysuit paired with dark wash high-rise ripped jeans and street style sneakers that are always on the go.
3.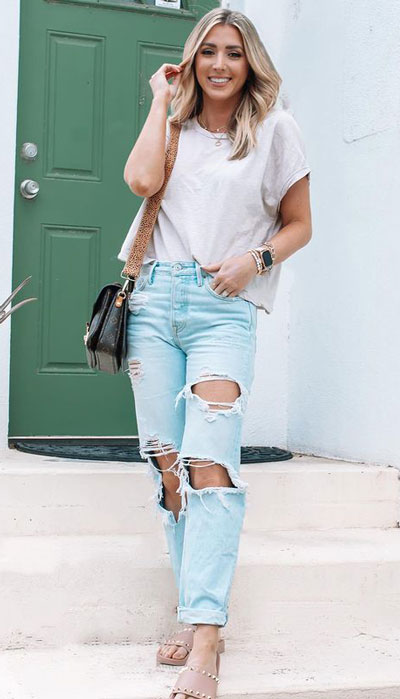 You can never go wrong with wearing a plain white loose tee and light wash distressed pants. Complete it with a comfy slip-on, a few accessories, and a sling bag and you've got a summer-ready fit.
4.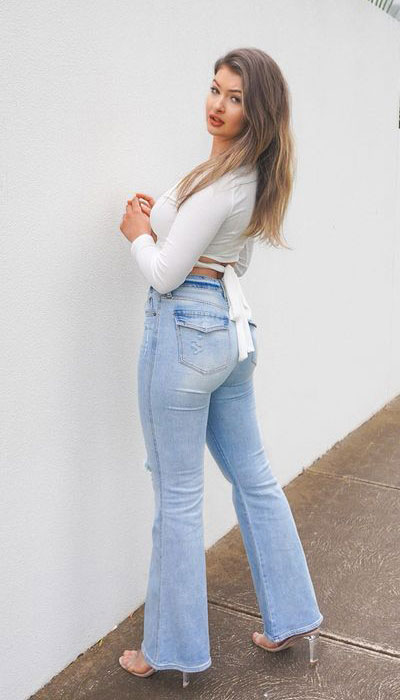 5.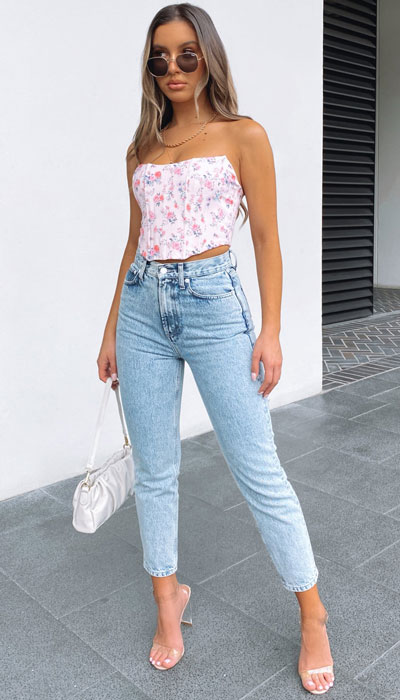 This cropped length high-waisted denim is a perfect pair for any summery top just like this pink floral corset. Finish it off with a clear square toe stiletto and a metallic ruched bag for extra glamour.
6.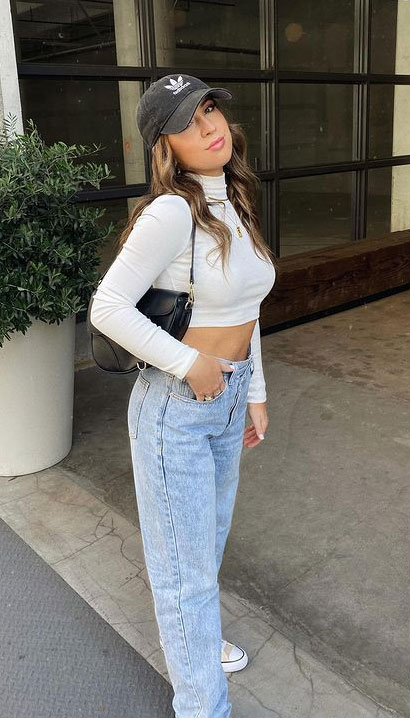 You might also like: 23 Super Stylish Fall Fashion Ideas for Women over 30
7.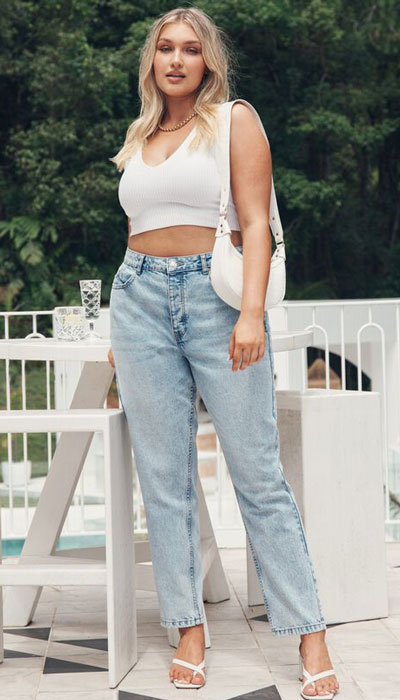 Is there anything more comfortable than a summer-cropped tank that you can put on and go? With loose-fit straight jeans, a pair of strappy sandals, and a fancy handbag you'll feel fashionable.
8.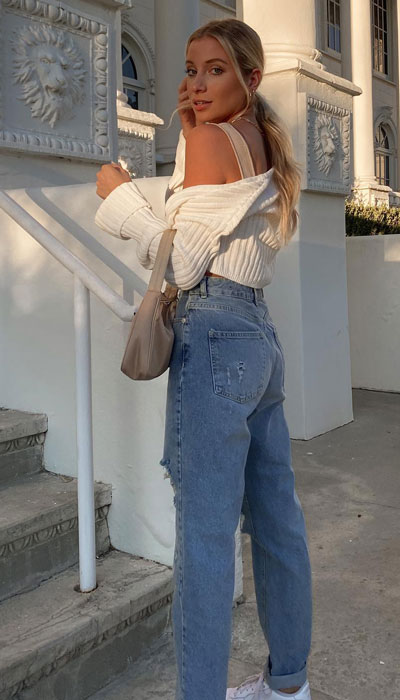 Shop this style: Glassons Knit top
9.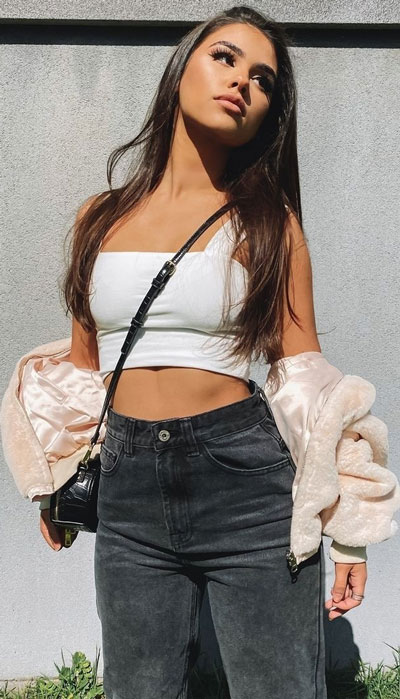 These corduroy pants and white tank top will be your go-to look during the day, but you can dress it up at night with a fleece coat. It can be completed with a few small accessories and a small bag.
You might also like: 24 Stylish Summer Work Outfits Appropriate for the Office
10.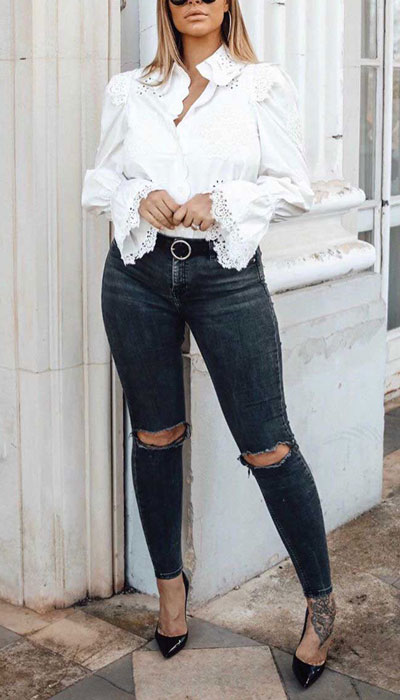 Let out your inner fashionista by matching this white embroidered sleeve top with black ripped skinny jeans and a pair of black pumps. This look is both office and summer-friendly, right?
11.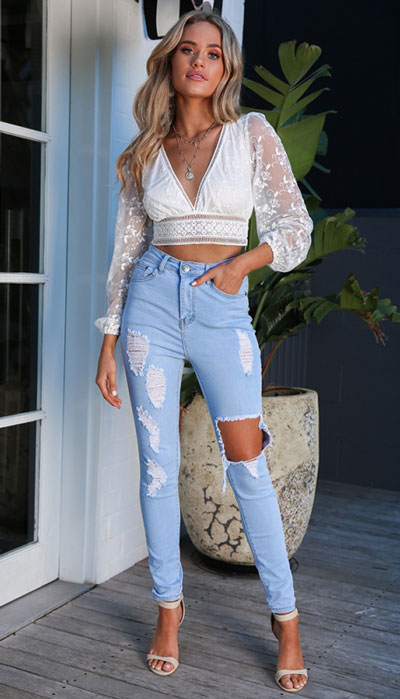 Shop this style: Crop top + Laurel Jeans in light blue
12.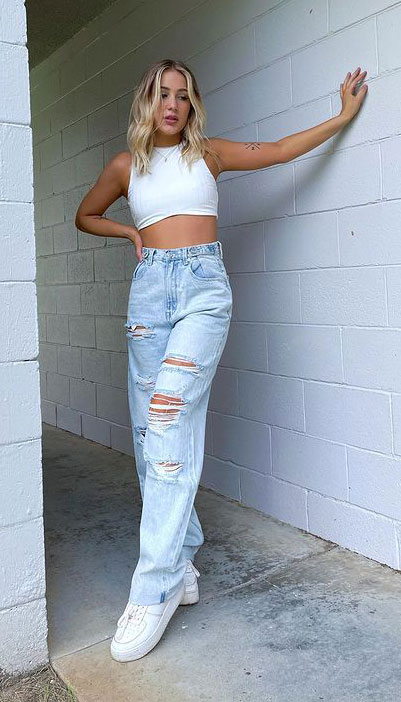 Pair a white halter vest tank top with high-rise distressed boyfriend jeans and white sneakers for a cute fall outfit. This is a laid-back style that is both trendy and relaxed.
13.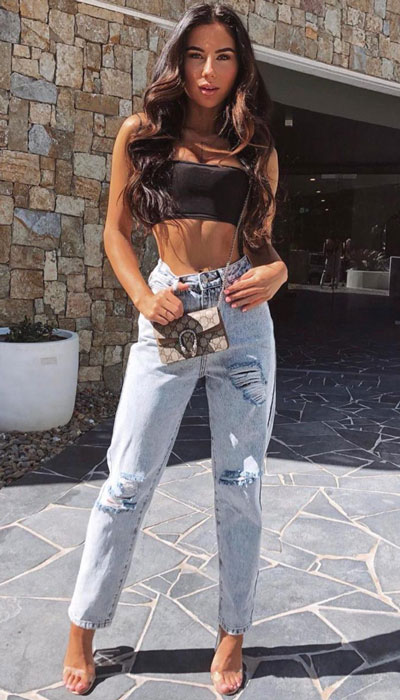 Shop this style: boyfriend jeans in washed blue
14.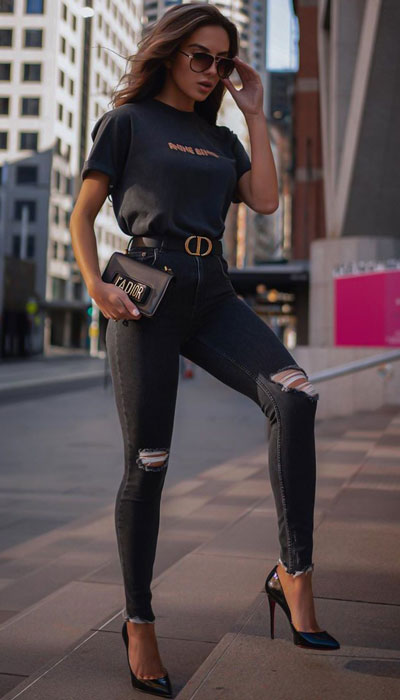 Who says a black fitted tee can't be stylish? Tuck it in with a fancy belt and pair it with a pair of black skinny ripped jeans for a stylish look. Attach a pair of pumps and you're done! You have a casual look that is both chic and glam.
15.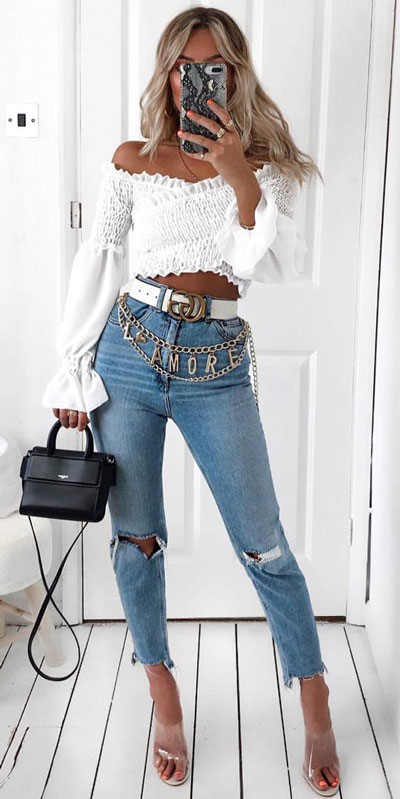 16.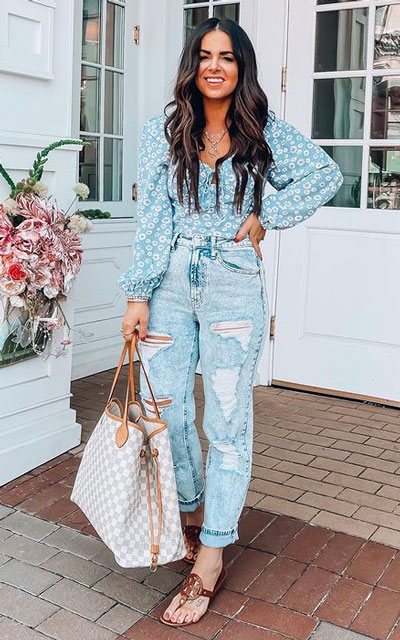 When you're going for a super-feminine look, distressed denim is the way to go paired with a floral smocked top. It's such a fresh look, and all you need are a pair of cute sandals and a pretty bag to top it off.
17.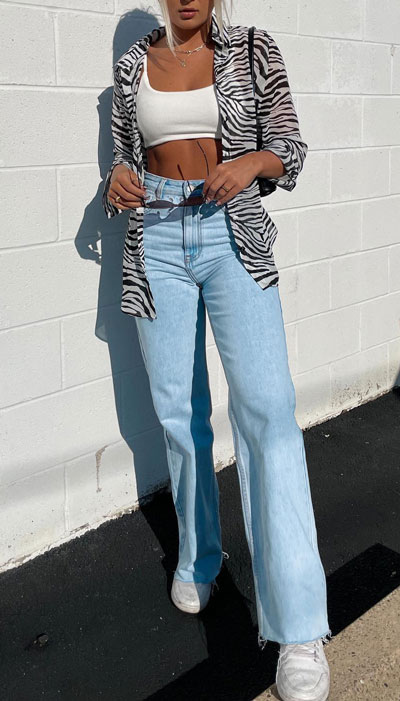 Shop this style: Ice-wash straight jeans
18.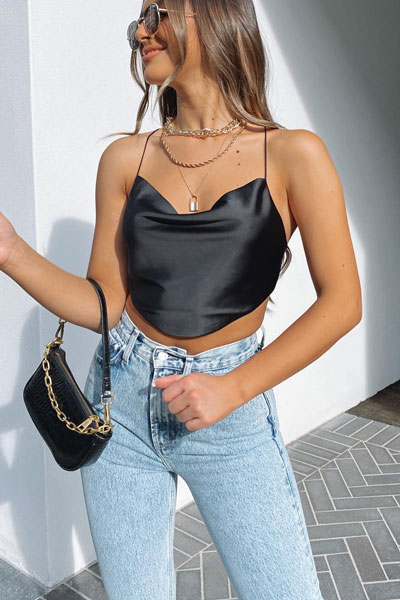 Choose a sensual look, like this cowl neck silky crop top for a summer date night paired with fitted washed boyfriend jeans. Add a baguette bag and chain necklaces to give it more of a city vibe for chic summer outfits with jeans.
19.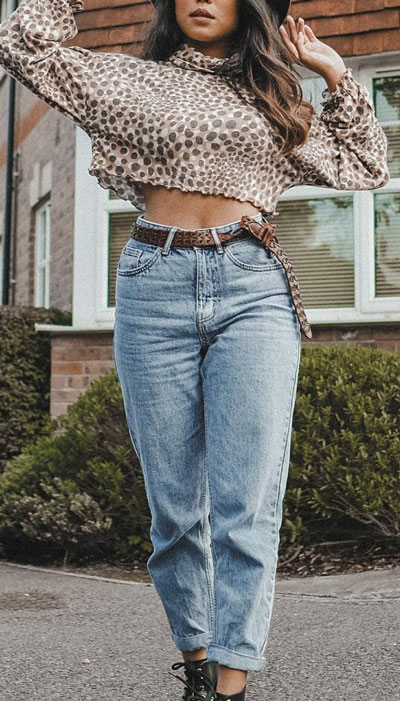 Pick a pair made of lighter fabric like this animal print crop top with a vintage mom jeans light wash. Complete this urban cowboy aesthetic with some boots and accessorized it with a hat and belt to perfectly suit a summer mood.
20.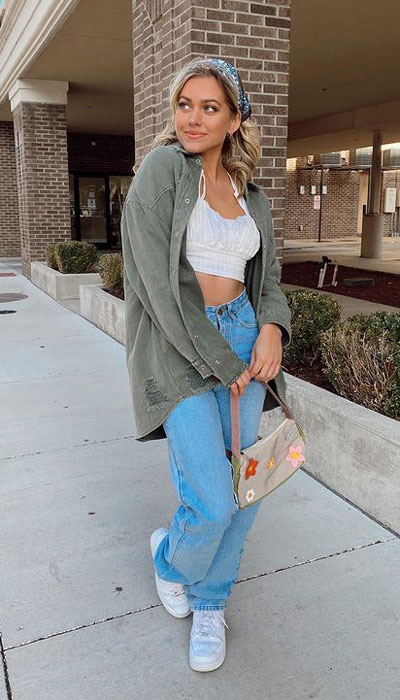 21.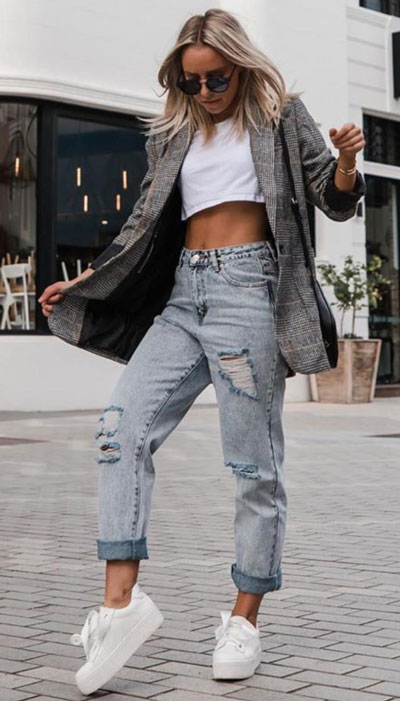 Shop this style: Boyfriend jeans in blue washed
22.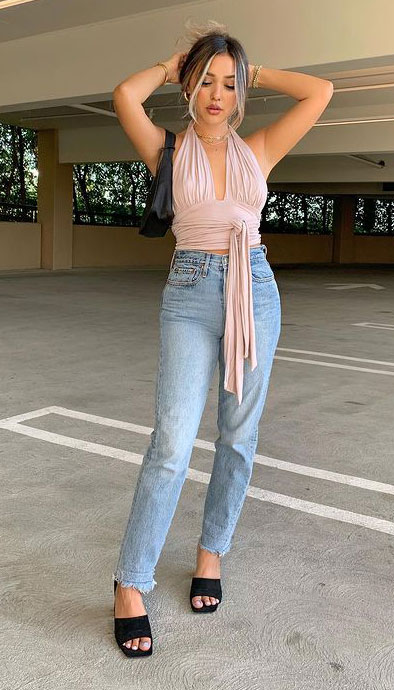 You might also like: 29 Comfy Spring Outfits That Are Fresh & Timeless
23.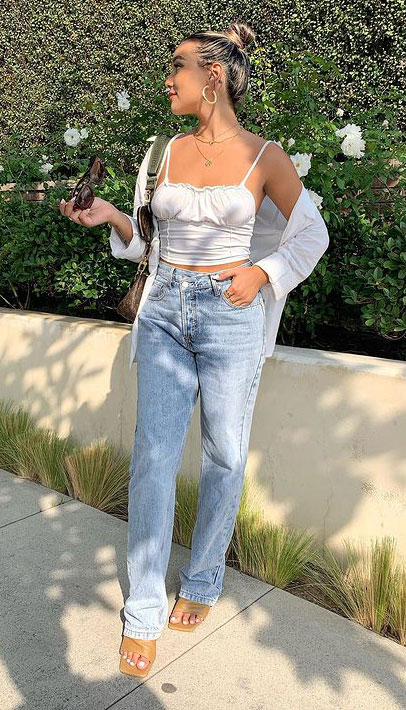 This trendy summer look is one of the best! Match a white milkmaid top with a pair of classic high-waisted jeans and your favorite flats to complete this stylishly casual ensemble. With a pair of hoop earrings, you're able to take on the summer heat in style.
24.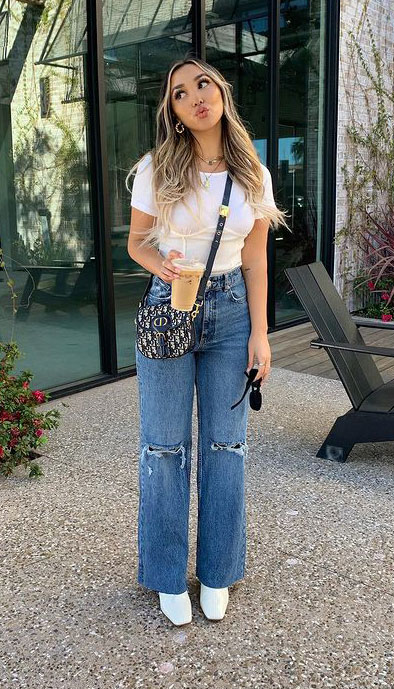 25.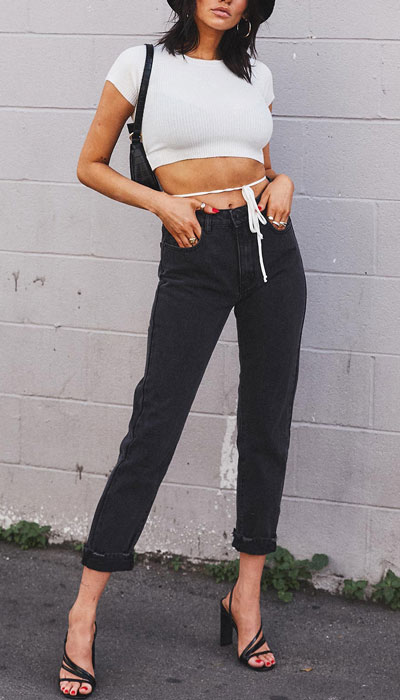 Shop this style: Amita crop top
26.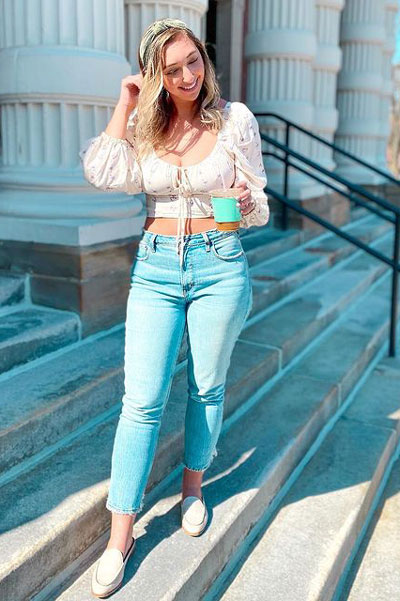 Pair a quality top with a pair of crop jeans, like this lovely long sleeve puffed crop top. A smokey eye and tousled hair for the added structure will add some extra glam; perfect summer outfits with jeans.
27.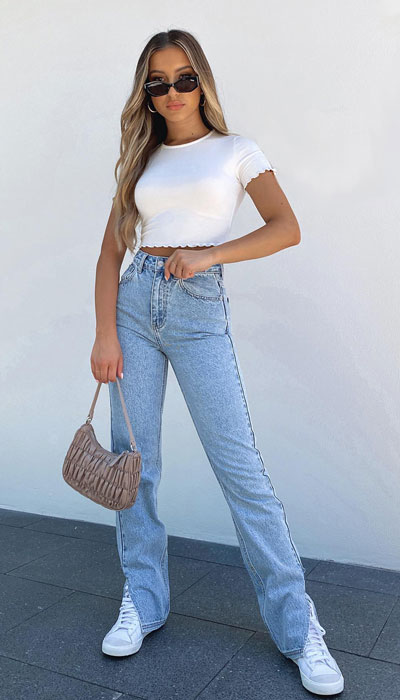 When in doubt, wear a white tank top. This style will make you look effortlessly chic and fresh. With a pair of straight high-rise jeans with slit, sneakers, and a handbag. Add statement sunglasses and voila, you're ready to go.
You might also like
25 Fashion-forward Summer Outfits To Inspire Yourself
17+ Pretty Summer Clothes That Always Looks Fantastic
15+ Lovely Summer Dresses Inspired by Fashion Influencers