Excited about the summer vacation? Find out 23 Summer Vacation Outfits Ideas to Make Your Next Trip the Most Stylish Yet.
"Cause a little bit of summer, is what the whole year is all about."
The summer vacations are about to start! Tell me who's not ready? NO ONE.
So, it's time to think about your summer vacation outfits, whether you're going on a trip to the beach, on a beach date, or just relaxing on the beach while listening to the waves crash.
Our summer plans may have changed this year, but there's no denying the pleasure of wearing something light and breezy on a hot day.
Seaside cottages, sunny city streets, and drinks with those tiny umbrellas await—but you'll need to pack a well-packed bag before you leave for your summer break, and planning what to wear for a holiday, on the other hand, isn't quite as pleasurable as the vacation itself. 
Discover the summer vacation outfits you must pack and wear.
Keep on scrolling and let's get started.
Summer Vacation Outfits
1. Blooming Flowers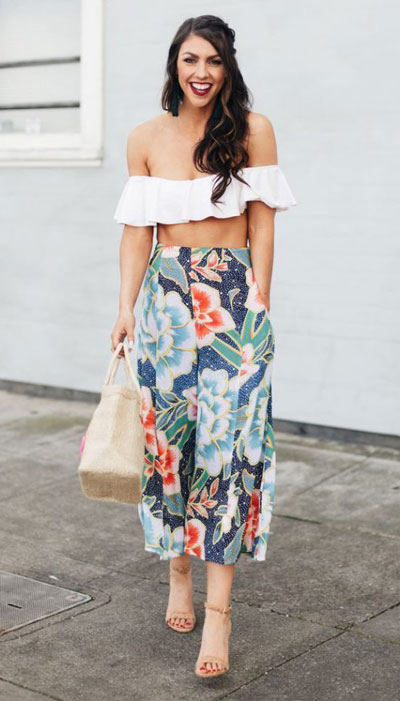 Lean into the trend. Nail a throwback-inspired look by pairing a ruffled off-shoulder bikini top with flowy floral pants. Accessories like tote bags and pumps are welcome but not required.
2.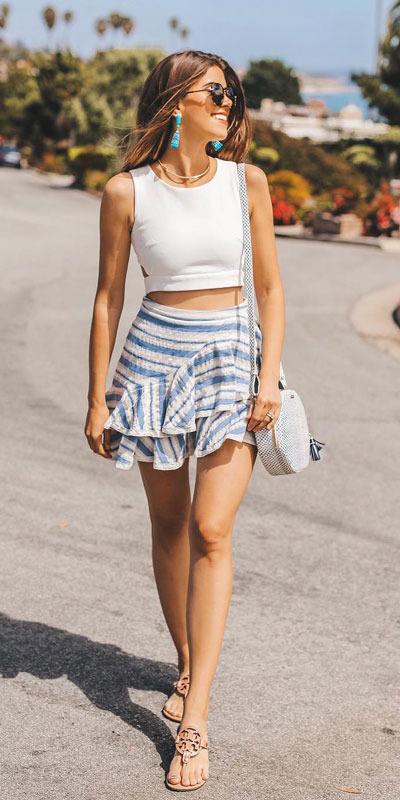 Shop this style: Bowknot top in white
3. The Styled Duo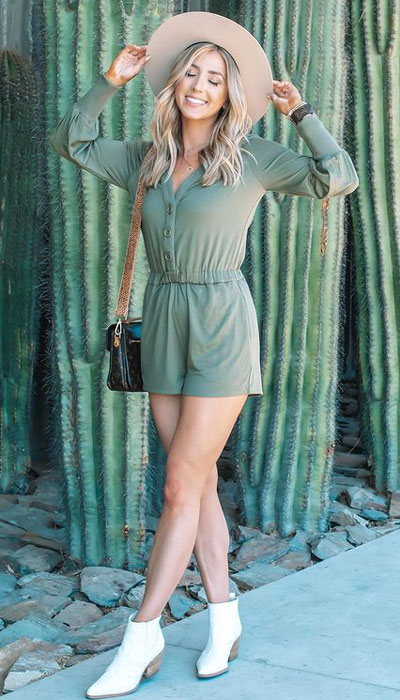 A jumpsuit is another great vacation piece as it can be dressed up or down. Add some white leather ankle boots and a taupe hat for a more summer vibe.
4. Pop in White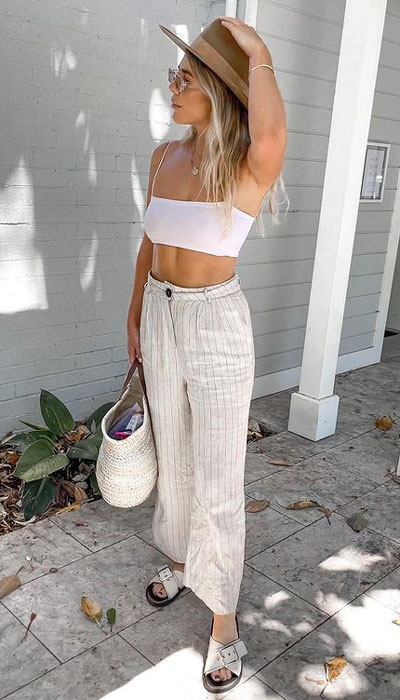 Add a splash of color to an all-white ensemble of striped wide-leg pants and bandage bikini top with a brown brim hat and belt-buckle flats.
Read more: 23 Picture-Perfect Vacation Outfits for best Summer Break
5.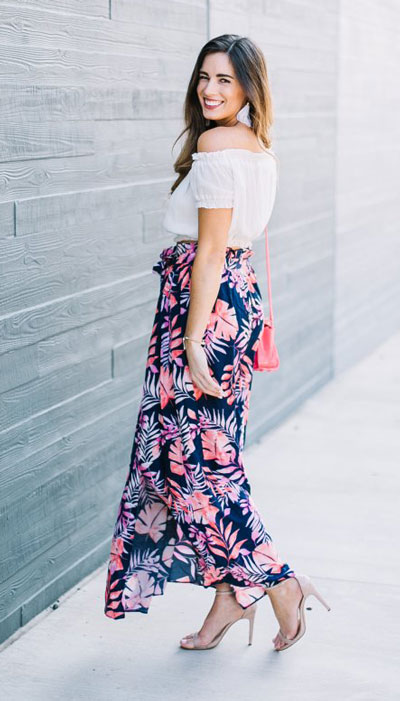 6.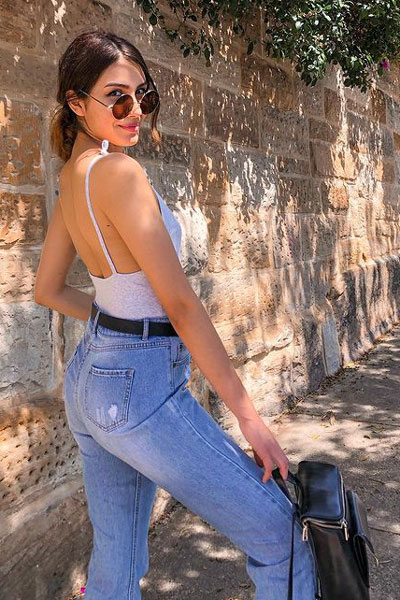 Read more: 27 Casual Summer Outfits With Jeans To Look Chic AF
7. Dressed to Impressed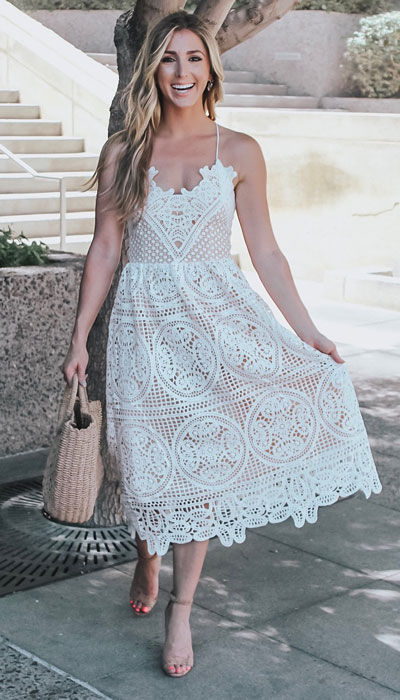 You will look divine in this boho style. A long lace white dress paired with your beachy tote and tan footwear is a must-have!
8. Tropical Fun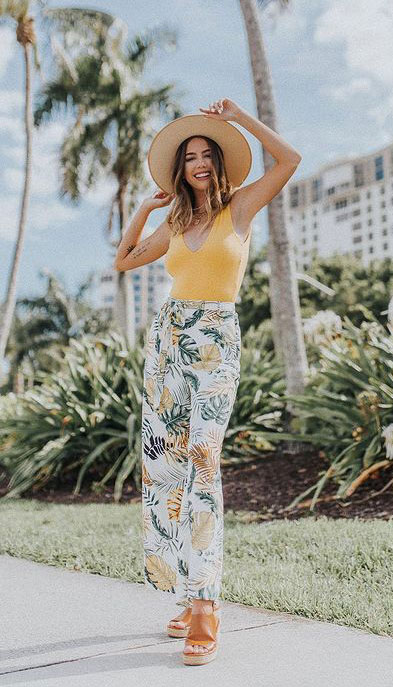 Embrace the tropical look via a V-neck knit top that you can style with summery wide-leg pants and a wedge. Finish it up with a floppy straw hat to punch up your look.
9.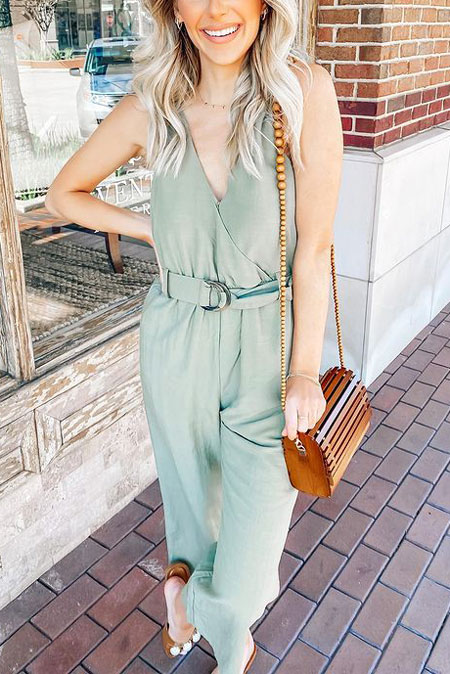 Shop this style: Jumpsuit + bamboo bag
10. Me in Full Bloom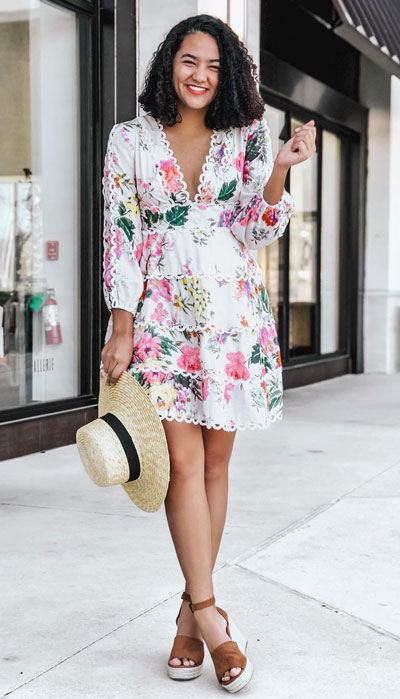 For your next trip, try wearing a V-neck floral dress with tiered scallop details. Don't forget to bring some beachy straw hats and wedge kicks to feel a little more special look.
11. Hello, Sunshine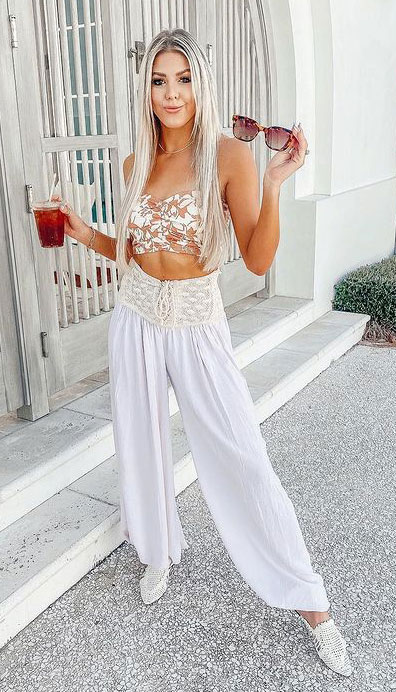 A cute printed bralette and white harem pants are a lightweight summer look—esp with a breathable white mule.
12. Summer Smile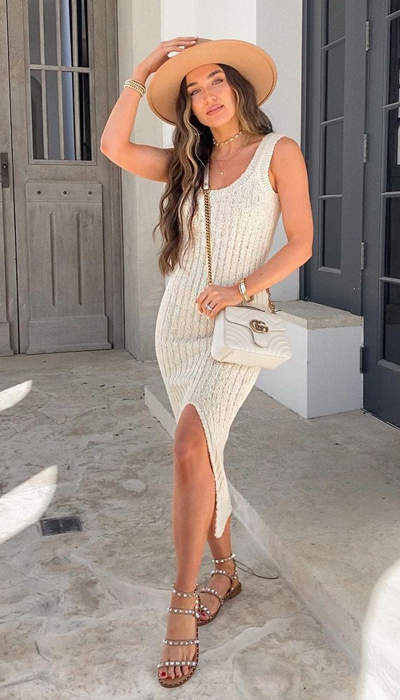 If you're looking for a comfortable vacation outfit that also happens to photograph well — then a ribbed knit bodycon dress, brown Panama hat, and clear studded flat sandals are your best bet.
13.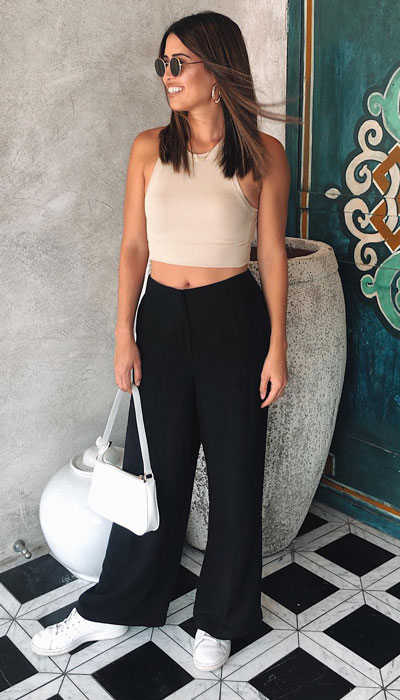 Shop this style: Ribbed tank top
14. Yes for Dress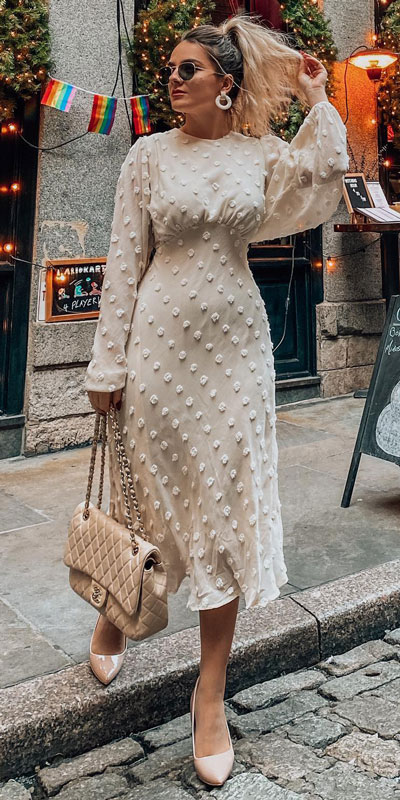 Light, comfortable, and roomy but not sloppy. You can't say enough about this adorable cream cotton candy sheer maxi dress! Dolled up with a Chanel flap bag and nude pump for a complete look.
15.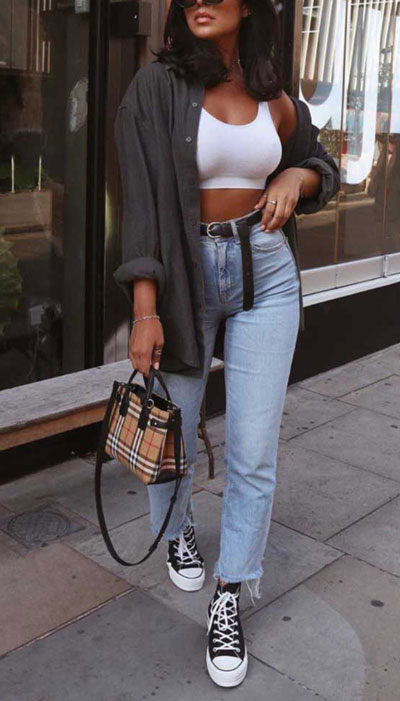 16. Taste of Summer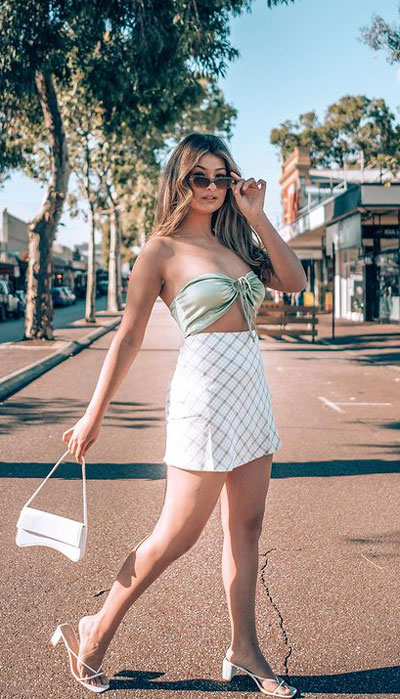 Mix and match your bandeau bikini top with a plaid mini skirt, spaghetti-heeled sandals, and a high-end white sling bag for a vacation-ready look!
17.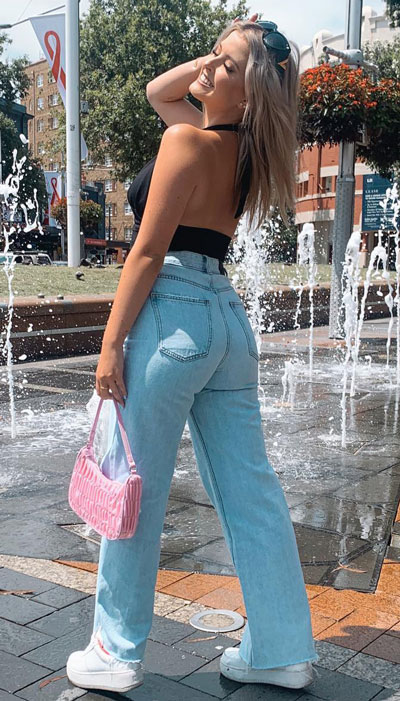 Shop this style: Straight leg jeans
18. Fun in the Sun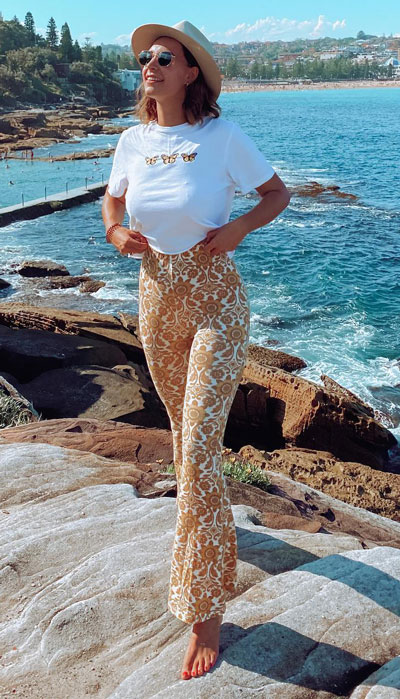 Your summer wardrobe should consist of floral flare pants, a graphic tee, and a perfect beach hat. This is highly recommended for beach walks and strolling.
Read more: 27 Most Popular Summer Outfits You will Love
19. Hail the White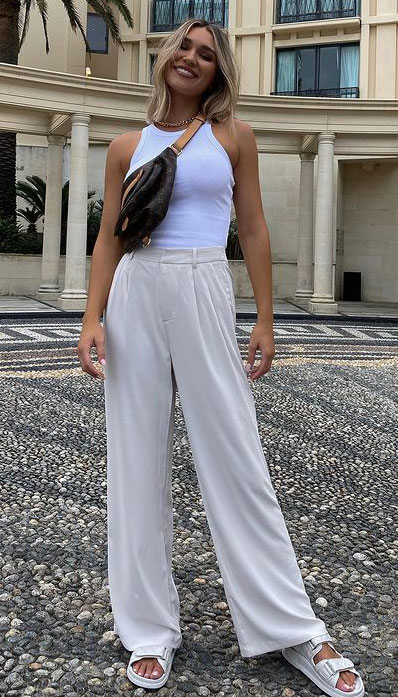 Stay comfortable with wide-leg trousers and a plain top, but elevate your basics with buckle sandals and few accessories. An LV crossbody bag also adds necessary vibes to your ensemble.
20. Summer's Here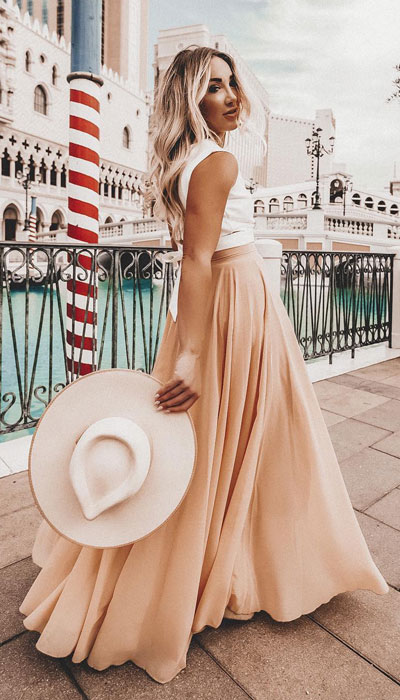 This look can be your entire vibe for all summer long. A timeless chiffon maxi skirt combined with a sleeveless tank top is such a mood. This look is perfect from a beach to a BBQ and everywhere in between.
21. Keeping Cool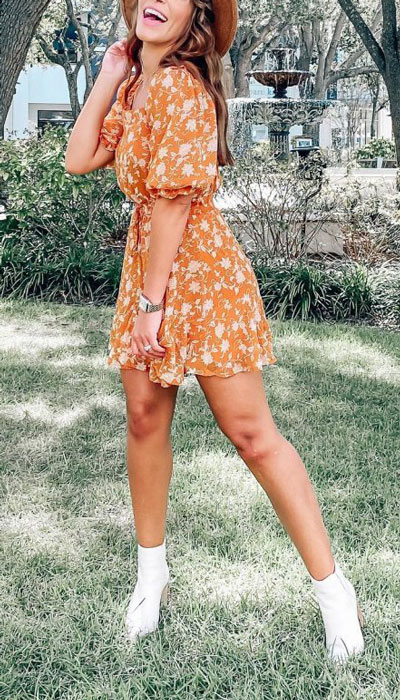 A mini dress is a perfect solution on days when you can't decide what to wear. Pull it all together with minimal effort and maximum results by pairing it with pointed block heel boots, a summer hat, and a beautiful smile.
22. Summer Days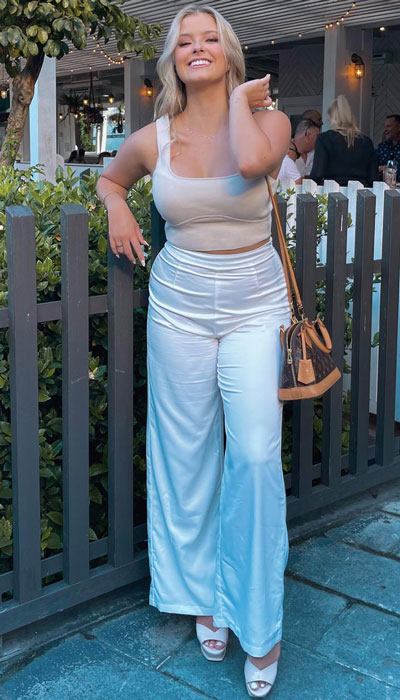 When the weather's nice and you want to show off your style, a tank top, white straight trousers, and signature heels and bag is the best option.
23.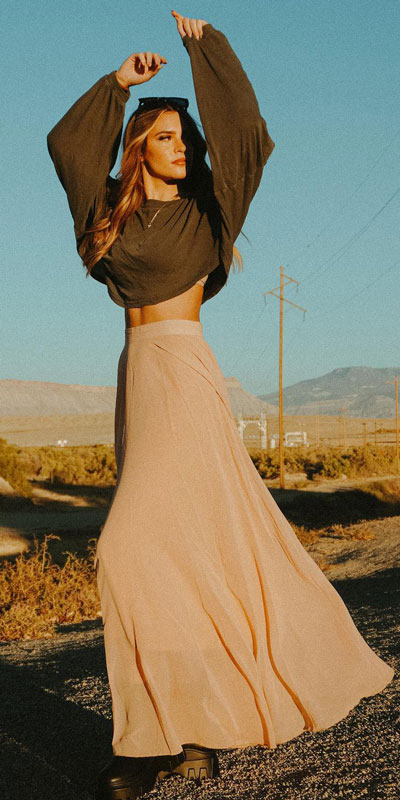 Shop this style: Chiffon maxi skirt in light tan